High Impact Direct Mail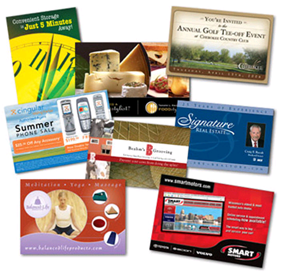 Our primary focus is to help  health clubs, fitness centers, and gyms attract and retain new members through targeted direct mail and street marketing campaigns.
Why Direct Mail?
55% read newspapers
75% have Internet access
95% have telephones
98% have TV sets
100% HAVE A MAILBOX!
You can't "change the channel"
You can't "delete" direct mail
You can't "turn off" your mailbox
You can't mark direct mail as "spam"
EVERYONE MUST GET THEIR MAIL
PRODUCTS: 
Postcards
Guest Passes
Take Ones
Posters
Door hangers
Lead Boxes
Brochures
Print Ads
Member Mailings
Email Marketing
New Mover Mailers
Banners
SERVICES:
Targeted Direct Mail
Call Tracking
Custom Designed Ads
Pre Sale Campaigns
To view hundreds of marketing pieces, including brochures, newspaper ads, posters, banners, door hangers, club newsletters, billboards, and more are available upon request.
Testimonials
I have been at 3 different fitness clubs that has consulted with Jim Thomas of Fitness Management & Consulting. Each club was quite different from each other, yet Jim's skill-set was broad enough to provide excellent service and training to each facility.

After Jim completes a Needs Analysis of the club, he strategically maps out a plan and then provides the means to execute a plan that can fit your needs.

A few things that makes FM & C an outstanding firm is not only their proven, time-tested methods of Jim's sales training and tracking accountabilities, but the manner in which he delivers the presentations. Jim is a true "people" person. He understands the daily struggles of the mom-n-pop facilities and he can handle all the red-tape that a larger, corporate facility is faced with.

Some consultants do a good job with the rah-rah, cheerleading seminars, but Jim is excellent also when the crowds are gone and you're back to the grind of the daily operational challenges. I have consulted with Jim Thomas for over 10 years and he is the real deal. I highly recommend Fitness Management & Consulting whether you are a struggling club looking to turn things around, or a new club start-up. FM & C can assist you and at the end of the day, you will feel that they have earned every $$ you invest into them.

Geof E.