High Impact Direct Mail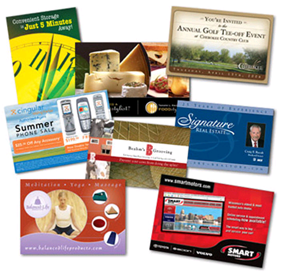 Our primary focus is to help  health clubs, fitness centers, and gyms attract and retain new members through targeted direct mail and street marketing campaigns.
Why Direct Mail?
55% read newspapers
75% have Internet access
95% have telephones
98% have TV sets
100% HAVE A MAILBOX!
You can't "change the channel"
You can't "delete" direct mail
You can't "turn off" your mailbox
You can't mark direct mail as "spam"
EVERYONE MUST GET THEIR MAIL
PRODUCTS: 
Postcards
Guest Passes
Take Ones
Posters
Door hangers
Lead Boxes
Brochures
Print Ads
Member Mailings
Email Marketing
New Mover Mailers
Banners
SERVICES:
Targeted Direct Mail
Call Tracking
Custom Designed Ads
Pre Sale Campaigns
To view hundreds of marketing pieces, including brochures, newspaper ads, posters, banners, door hangers, club newsletters, billboards, and more are available upon request.
Testimonials
I contacted Jim Thomas and Fitness Management & Consulting around November 2010. We made arrangement for him to come out and do the two day sales training. I was a little skeptical at what difference could be made in two days of sales training. However I put that aside and embraced his teaching and philosophy and what a difference it has made. Our previous best month prior to Jim coming out was 31 signs. He came out toward the end of December and when he left we had one week remaining, we signed 18 people in that final week, more than any single week we had prior. The following month we signed 66 people, which at a high price point facility isn't too bad considering where we were. After that first full month it was off to the races. We then retained Jim for the ongoing three times a month teleconferences and webinars and have been doing so for the past year. We have more than doubled out membership basis and more than doubled our membership dues. One of the most important things he gave us was correct mind set for sales and set the bar where it should be. Prior to Jim we thought that 31 was a really good month now we know our goals should be 150-200 in a month and he has given us the tools to do so. One of the best things in dealing with Jim on an ongoing basis is that he really seems to genuine care about you and your companies success. He always makes himself available to answer questions and doing one on one training with employees who need it even when it does not fall within the normal scheduled teleconferences. I really can't say enough about how great it has been to work with Jim and how much he has help our business grow. I have recommended him to people who ran even in the fitness industry because well sales are sales. If you own a fitness club I can't imagine why you would have him out to at least do the two day training it is well worth every penny, you WILL make back every dollar and then some faster than you can imagine.

Matthew T.